How beautiful Scarlett Johansson's Engagement Ring is? It's a a really wonderful one. So today let's talk about Engagement rings.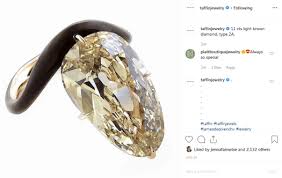 1. Are engaments rings all the same ?
No, because there are engagement rings and there are ENGAGEMENT RINGS!
2. What about that one of Scarlett Johansson's?
Scarlett Johansson stepped out for the first time publicly in her engagement ring from Colin Jost at the Jult 2019 Comic-Con International in San Diego, California. She was speaking on the Marvel Studios Panel wearing a white and black outfit handcrafted by David Koma and she was introducing the amazing new cast of her forthcoming film Black Widow that actually includes Rachel Weisz, Florence Pugh and David Harbour.
While the entertainment press was fully focused on what promises to be a great new Marvel movie, none could not take his own eyes off the ring.
3. What Scarlett Johansson's engagement ring looks like?
Scarlett's new jewel only appeared in a couple of images but was IMPOSSIBLE to overlook. The center stone practically reached up to the knuckle of the petite 5'3" super heroine. It is a pear-shape diamond and from the lighting in the images appears to bea light brown diamond of around 11 carats. The sensational setting was anything but typical. It was a swoosh underneath the rump of the pear.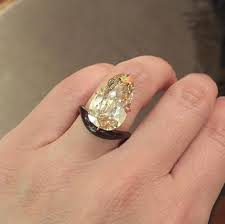 4. Who is Scarlett Johansson's engagement ring desingner ?
All the design hallmarks are exactly in line with a ring you can try on from Taffin designer James del Givenchy at the TEFAF fair in May. The spectacular New York based French jewelry designer is indeed the nephew of legendary couturier Hubert de Givenchy. He rarely loans jewels to actresses for the red carpet, but not because he is a snob. It is just not where his energies lie. Since James launched his collection 20 years ago, he has been carefully and masterfully honing his craft, creating incredible innovative jewels and gaining a cult following.
If James de Givenchy is indeed responsible for Scarlett's stunning engagement ring, a closer look at the jewel which we will certainly get one day, could reveal it to be one of the most stylish and stunning any actress in Hollywood has ever worn.